Home Interior Design Tips: Bathroom Dimensions
Today we continue sharing our home interior design tips, as part of our bathroom blog series! We know that a bathroom renovation or a new bath design can be scary as there are so many requirements in one small area. But don't worry! With this bathroom measurements guide, you are ready to take on the most intricate bath design!
Home Interior Design Tips – Clearances
COMPACT BATHROOMS
First up is always space layout. You need to make sure your clearances are adequate (to code) for all plumbing fixtures. See below a few floor plan options, with measurements, for compact bathrooms:
We use the third plan quite often for secondary bathrooms (for example adjoining a guest or kid bedroom, or a cabana bath). We like the larger shower it lets you create. The minimum size for a comfortable shower should be 36" x 36". But the smaller we try to keep it is 36" x 48".
POWDER ROOMS
Powder rooms generally are more compact and have fewer fixtures: a sink and a toilet. There are many design options but typical floor plans we use are the below:
Do your best to keep a 36" wide door, or as close to this width as you can. This will help the powder room feel grand-er. A great way to expand your space is to use an overscale mirror that either spans one whole wall, or goes from the vanity counter all the way to the ceiling!
MASTER BATHROOMS
In master bathrooms, we tend to have larger floor plans. Hence, we like to incorporate wider fixtures and plan for larger clearance spaces overall. Let's review the master bathroom floor plan for our Contemporary Oceanfront Retreat project:
In some of our master bathrooms, you can see that we have the space to have separate toilet rooms! As mentioned above, minimum clearances here are usually easy to respect; since you have more space.
Dimensions
VANITY, MIRROR & SINK
Now, let's get into details, and review some important home interior design tips and dimensions to keep in mind for the vanity area. In the above master bathroom floor plans, you will notice the double vanity. A double vanity width typically measures min. 60" wide. Although Ikea has some great space saving options that are only 48" wide!
When looking at sinks, keep in mind that round bathroom sinks generally have a 16" to 20" diameter. Rectangular sinks can be 19" to 24" wide and 16" to 23" deep.
For a vanity, the regular height is always 36" AFF (= above finished floor). While a vanity depth should be about 22".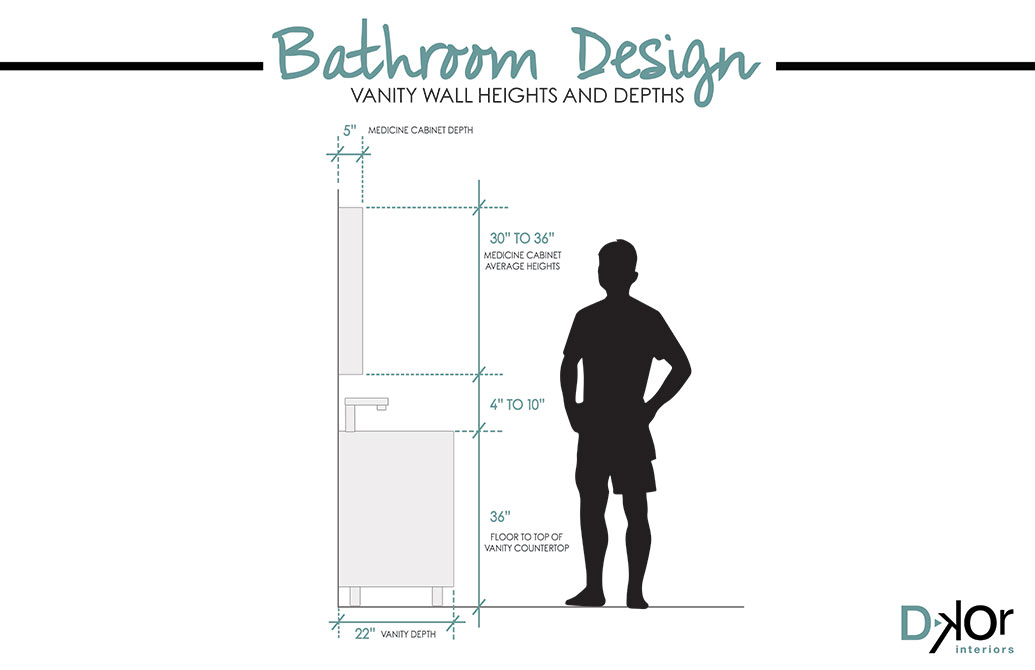 ALL THINGS FAUCET!
The location and dimension of your faucet will mostly depend on your sink. Choose between a regular deck mounted faucet (on the vanity countertop), or a wall mounted faucet to make it feel more architectural. Check out this amazing post from Remodelista, on this type of fixture, to understand the pros and cons. Don't forget to plan ahead, and coordinate with your general contractor in case of the latter. The plumbing needs to be prepared in the wall for a wall mounted option!
Your faucet dimension and location will vary if you have a vessel sink. It will need to be taller, in case of a deck mount. In case of a wall mounted faucet, check out this installation detail below for best results:
In most cases, faucets will be deck mounted, right above the sink, placed center between the wall and the start of the sink. But in some cases, for design purposes or for space requirements, the faucet will be on the side of the sink. Always check the fixture's specs and installation details to make sure it will work properly.
SHOWER AND BATHTUB
For showers, there are several different sets you can select. Make sure you have all of the roughs (parts to be installed inside the wall) and trims (temperature control and diverter for example) when making a plumbing purchase. They typically are all separate parts! Your plumbing vendor is the best person to reach out to when you have any doubts.
See the graphic below for adequate locations and heights for shower fixtures:
The height of your fixed shower head can depend on what is comfortable for you. If you are very tall, make sure you adjust the height, so that you do not have to bend to wash your hair!
Notice also the correct dimensions for a nice shower bench. If you have space, it always adds a "spa feel" and is super efficient if you like to shave in the shower.
Another dimension people often ask us about is the clearance around bathtubs when you have a platform look. If a tub has a step leading to it, make sure that it is at least 11" deep. This will feel comfortable to get into the tub. If you have the tub on a platform, plan to have an 11" clearance area next to the tub, for the same reason.
This concludes our second post for our bathroom series. Of course, there are other specific measurements that we have overlooked here. But the best rule of thumb we can give you is: check the item' specification sheet! In 99% of the case, you will find the answer there.
Do you feel more comfortable with the idea of creating your dream bathroom now? We hope our home interior design tips will help you and your bathroom project! Next up in this series we will talk about everything TILES!
Related Posts
[/vc_column_text]
We loved writing about kitchen design and revealing our insider tips in our kitchen series blog posts. So… We decided…
[/vc_column][/vc_row]