Shared Kids' Room Ideas: Sailing-Inspired Design
Our clients and their families come in all sizes with all different needs and wants, and it's our job as interior designers to make their homes work for their daily lives. That's exactly what we did in this Miami vacation home located on the beach in Sunny Isles! We can't wait to share how it all turned out with you. Get ready for shared kids' room ideas galore.
Before we dive right in, here was the design intent for the two shared kids' bedrooms.
Design Intent
We wanted these rooms to be tied to the rest of the home's sailing-inspired design scheme, but be tailored to the kids who will stay in them. Plus, in kids' rooms, you can play around with color and whimsical items a bit more—notice the fringed chandelier in the girls' room. (That's always fun for our designers!)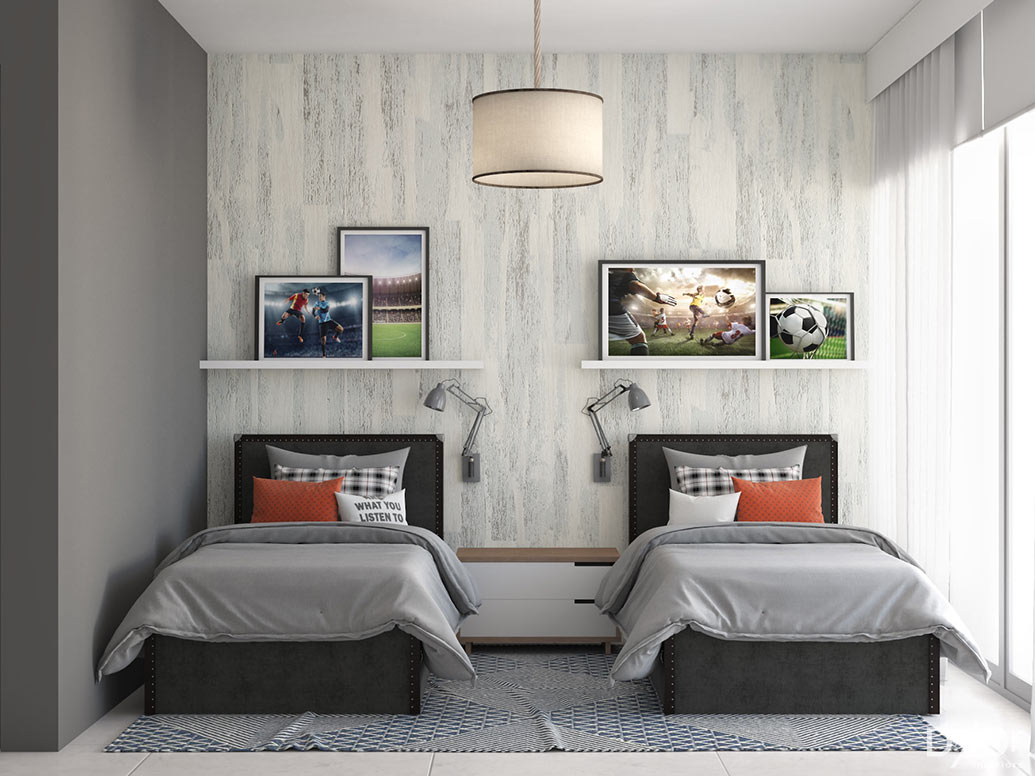 Final Look
As you can see, both rooms remained true to the original look and feel of the design intent, but the actual items may have changed. The items we choose can be updated from our original design intent 3D rendering because of a number of things: taste, needs, lifestyle, trends, and so much more.
The Boys' Bedroom
While it's more overtly sports-themed than sailing-themed, this boys' bedroom takes its color scheme of weathered woods and shades of blues, straight from the home's palette. Let's take a tour! 
The bedroom's hallway is lined with beach sports photos to get the kiddos in the mood to get outside and play. The frames are inexpensive Ribba frames from IKEA! For shared kids' room ideas on a budget, look no further than some of our IKEA finds in this room.
We love this little vignette! IKEA's floating cubbies are perfect for storing mementoes, sports equipment, or even decorating with a pop of color. How cool is this bench from Restoration Hardware kids' line? The weathered wood seat is a bit nautical, but the shelves resemble a locker room.
On the opposite side of the bedroom, you'll find two twin beds all decked out. Instead of headboards, we've created a focal point behind the bed with wallpaper—which resembles the cracking paint on the hull of a well-loved ship—and floating shelves holding on-theme art.
Boys Bedroom Accessories
Nautical accessories, like an anchor-adorned pillow and toy sailboat, nod to the home's design without taking over the space. Though the original design intent had gray bedding, we swapped it out for this navy quilted bedding from PB Kids. We love the depth it brings to the space. Also, it's neutral enough to grow with the kids as they age and their tastes change.
A single nightstand is used for both beds, so it had to be large enough to hold nighttime waters and maybe even a book for both kids. We fell in love with this one from Bludot, one of our favorite brands. Its sleek modern lines don't detract from the accessories.
Above the nightstand to offer task lighting, we chose these mid-century-inspired sconces from Rejuvenation. The brass accents mimic the brass details on a boat. Look up and you'll see a stunning pendant in the center of the room to shed more light on the space. This Restoration Hardware find is hanging from a thick jute rope and is covered in a textural burlap—all things that tie the space back into the sailing-themed home.
Girls' Bedroom
While the boys' room is more grounded with the deep navy hue, the girls' room is light and bright. A new hue is introduced: the pale pink of dusk over the ocean. This accent color plays nicely with the mostly gray palette. You'll find it on the area rug and the sheets for a subtle pop.
The beds we eventually used in the room are a bit different than those in the design intent. Instead of a wood finish, these Restoration Hardware beds feature a weathered white finish. Above them is the room's focal point. The quartet of circular wall art is hung on a raised section of the wall to draw the eye to them.
Organic bedding, both in composition and in pattern, features a lovely raindrop-like pattern. Sweet stuffed animals sit beside textured pillows on the bed. In between the beds is a single round nightstand and a column-shaped lamp. Both lending curvy lines to the space.
One of our favorite pieces in the home is the fringed chandelier from Anthropologie in this shared little girls' room. Remember when we said kids' rooms allow us to be more playful with our design? Well, this is what we're talking about. A lot of people wouldn't be brave enough to try this in a main area of their home. But in a kids' room, it's perfect!
Across the room from the two twin beds is an adorable little vignette: a potted fiddle leaf fern, whimsical pillows (hello little mermaid) atop a curvy velvet bench, and a super cute white mirror.
More Design Inspo
We hope you found lots of shared kids' room ideas for your next project in these two adorable kids' spaces. But if you want more (we get it!), check out the design intent of the home's main living areas and the portfolio page for this Sunny Isles beachfront condo.
We love designing vacation homes for our clients! Because they're not a main residence, we can often bring to life…