Design Inspiration: A Family's New Beginning in a Sunny Isles High-Rise Apartment
For our most recent design project in Sunny Isles, Florida, we were inspired by the wonder of new beginnings—in this case, a family's first long-term dream home.
Over the past several years, our clients have lived in eight different countries as they've traveled the world with their two little ones. But after moving to Florida, they've decided to settle down, and we couldn't be more honored to have been selected to help bring this family home to life.
The family has chosen the stunning Muse Residences in Sunny Isles Beach as their home base. This building is one of our favorite in this exclusive area, which has seen a recent boom. The Muse, designed by world-renowned architect Carlos Ott, has only 68 residences, and each is outfitted with top-of-the-line appliances, soaring 12-foot ceilings, and technology that makes it a smart home. Not too bad for a forever home, right?
As we thought about the family, their needs, and a concept that would best represent this new milestone in their family lives, we kept coming back to the idea of a fireflower. Like the bursting of a firework or the flare of a sparkler, this home will be a warm, new beginning for the family.
To give this family the home they've been working toward and looking forward to throughout their travels, we wanted to create dream spaces filled with cozy, welcoming textures, colors, and finishes.
Gray-toned woods set the stage for a soft, monochromatic palette highlighted with pops of rich indigo, slate blue, and elegant champagne. Textured wall coverings and upholstery, like tweeds, leather, and woven fabrics, lend interest to each space.
When we go about combining texture, palette, and materials in this Sunny Isles High-Rise Apartment, we need some rules for how to do it. These "rules", which are more like design guidelines, help set this home apart from others, as everything we do is done with intention and purpose.
Reflection
Just as light reflects off water during a beachside fireworks display, or even the sun on an ordinary day, we've thoughtfully added elements to the design that reflect light. Whether it be metallic fabrics or metal and glass surfaces, there will always be a luminance about every space.
Repetition and Rhythm
Fireworks and sparklers create patterns with lines of light and we've taken cues from them. A repetition of lines—seams on upholstery, texture on wallcoverings, or a grid of framed art—generates patterns throughout theSunny Isles High-Rise Apartment.
Hierarchy and Focal Point
A fireflower stands out in the night sky because of the contrast of color. Well that's exactly what we aim to do in our design: contrasting shiny and matte, soft and hard, or polished and rough to construct a focal point in each room.

Layers
Creating depth with layers isn't a new design trick, but we're thinking about it in a new way. Just as layers of a firework make it three dimensional, the layers we add to this home will have a similar effect, creating a deep, impactful design.

Texture
A naturally uneven, sparkling texture can be found in all fireflowers and that's the effect we want texture to have in this family's home. Texture should lend interest and intrigue to the spaces.
Check back soon as we work our way through the design plan, room by room, and eventually reveal the finished forever-home in Sunny Isles. In the meantime, we're sharing some photos of our design team during the first site visits to this Sunny Isles High-Rise Apartment. Take a look!
Sunny Isles High-Rise Apartment In Progress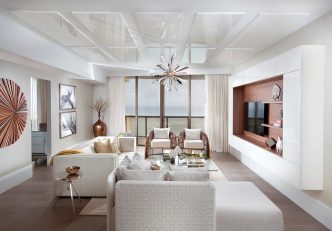 Over the past few years, we've witnessed a boom of luxury residential oceanfront condo developments all over South Florida. Oceanfront…