Top Design Tips for DKOR Style Dining Rooms
Top Design Tips for DKOR Style Dining Rooms
The holidays are always a busy time of year at our DKOR interior design studio in Miami.   We are working overtime to wrap up our residential projects just in time for the Turkey to go on the table! If you are like many of our clients that are updating their dining spaces to get ready for holiday entertaining here are some of our top design tips to keep in mind.
1. The Guest Count
How many people do you need or want to accommodate at your dining table?  Pick a dining table that sits everyone comfortably.  We get lots of requests for extra deep tables that easily fit two people at each end as shown in our Ft. Lauderdale Contemporary Waterfront Home project below.  This allows for comfortable and relaxed seating arrangements.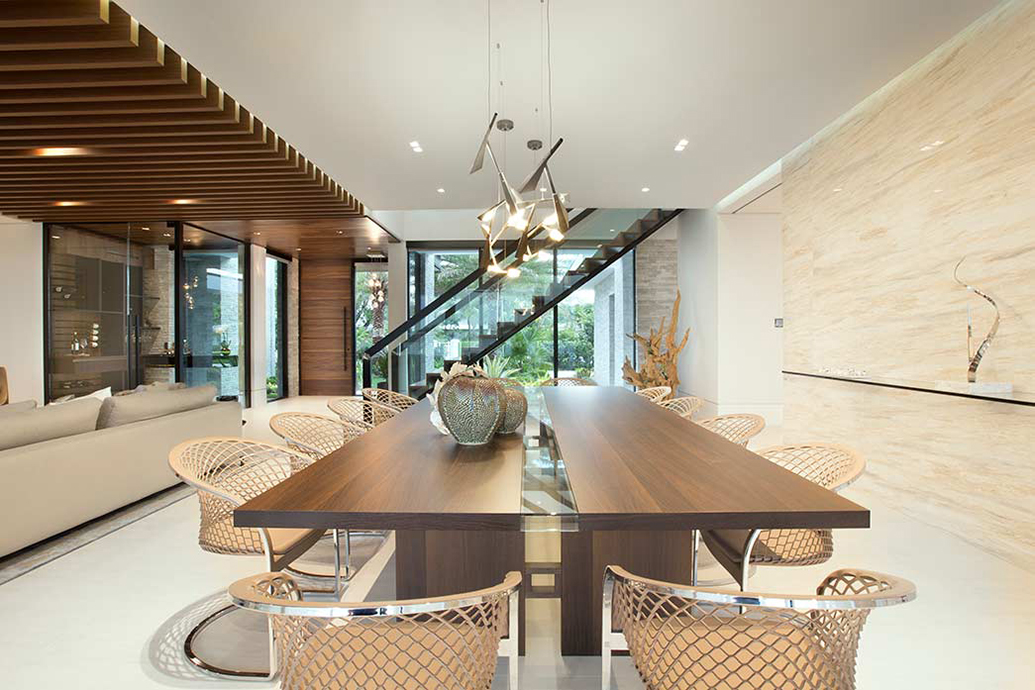 2. The Style
Glass dining tables are great for smaller spaces. They appear visually much lighter in the space and give the room an open modern feeling.   Consider custom size glass tops to accommodate larger groups.  Be sure that the base you select is substantial enough to support the size of the glass top.  Check out how we managed to get this custom oversized glass table into our client's Fort Lauderdale Penthouse HERE.
3. The Shape
Our favorite dining room trend comes from our recent interior design project turnover. The round Concorde dining table from Poliform accommodates 10 people and has a large circular "Lazy Susan" in the middle so passing the dishes around is as easy a quick spin.  Not to mention we all fell in love with the contrast of the dark chairs with the calacatta oro marble top.  Gorgeous!