International interior design team favorites from MAISON&OBJET Americas
The second annual expo and well-known French design show, MAISON&OBJET Americas returned to South Florida.  As top leading interior designers, we are constantly attending different interior design trade shows around the world.  Last years first annual MAISON&OBJET Americas was celebrated in the Miami Convention Center and this interior design expo became a must-see for our international interior design team.
Miami was the selected host city for this international design expo, being a city that embraces many creative related industry's including fashion, art, architecture and design. Maison & Object Americas brings together an energetic community of Miami's leading designers, architects and property developers.
We attended the international design fair's opening VIP Welcome Party at the historical Moore Building in the heart of the Design District.  During the special event, this years talents were recognized with the Americas rising talents awards 2016. The winners of this honorable award included Guilherme Wentz from Brazil, Samuel Amoia from New York, industrial designer Juan José Nemer and architect Mauricio Álvarez, Javier Gomez, designer Ben Medansky, and the art and design studio based in Chile,  Great things to People.
During daylight, our international interior design team headed off to the Miami Convention Center to see all of the interior design emerging trends on display at the international exhibitors' booths. We found innovative and new designs in home décor, furniture, accessories and textiles.
After walking the large convention center, DKOR's interior design teams shared with us their favorite booths from this years expo. See their reviews and favorite booths of the 2016 MAISON&OBJET Americas.
INTERNATIONAL INTERIOR DESIGN TEAM FAVORITES
Melogranoblu booth was my favorite. In the US market, we have to use UL Listed light fixtures and many international companies shy away from gaining this light fixture because of the costs that come associated with this rating. This company went around challenge by using and creating "light fixtures" with no actual lighting. They illuminate their glass sculptures with LED lighting that's installed as recessed lighting above the installed light fixture still providing the illusion of a light. (Ivonne Ronderos, DKOR's principal)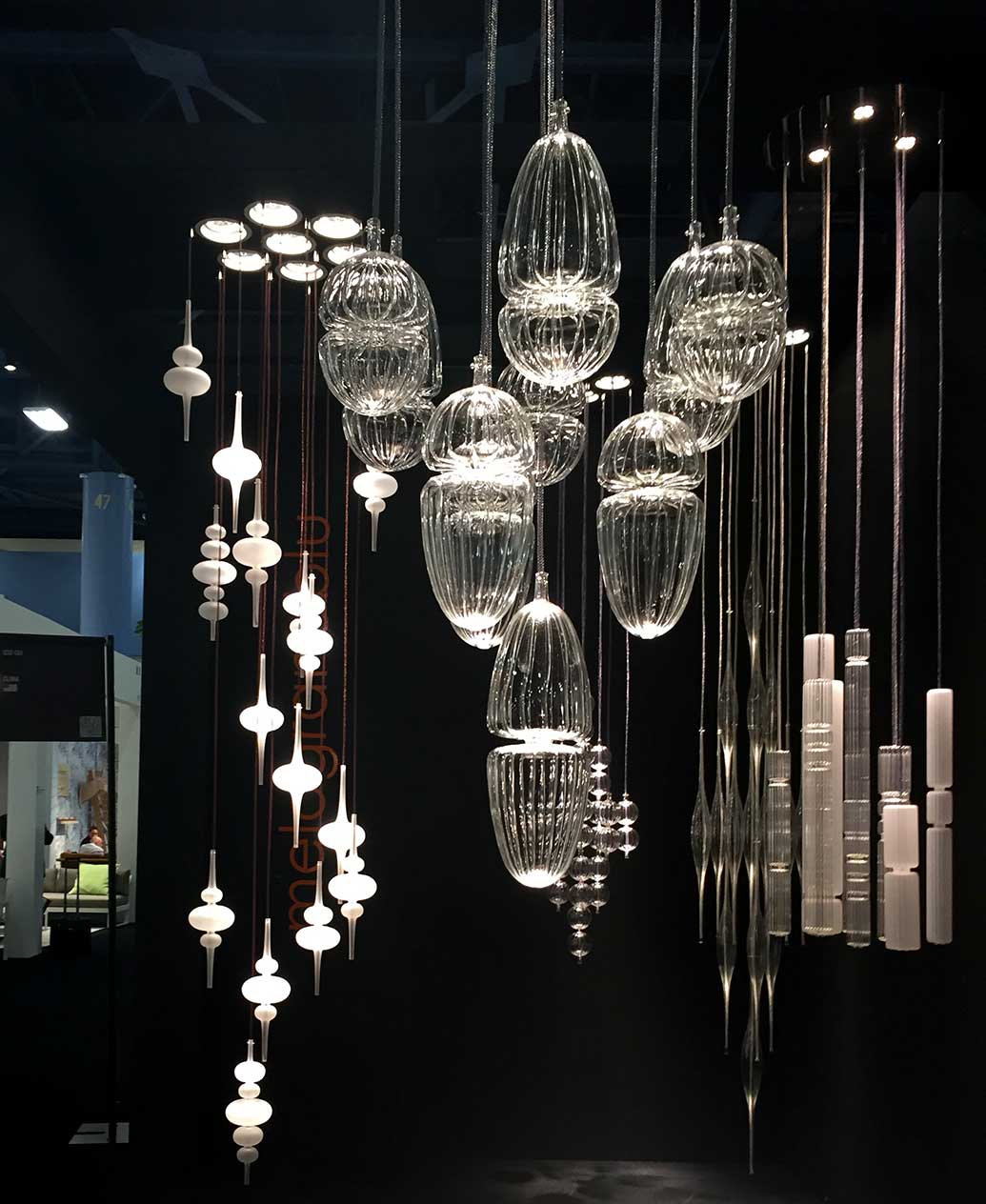 "I really liked the DEDON design booth. The creative way they showcased their new outdoor furniture collection. It really felt like you were in an outdoor space." (Silvia Parra, Jr. Interior Designer)
"I like to come to the show every year and see what it is there to see, in this fair you can see a lot of decorative objects and get inspired from all the details you found on them, this year my favorite was the BlackBody booth. Black body is a lighting company. I just loved the way the lighting can make a space so impactful. We are always looking for unique light fixtures and what I liked from this company is their OLED fixture, they can customize any design you imagine! It's always great to find companies open to create and customize! See some photos below and get inspired too." (Anahi Carrillo, Jr. Interior Designer)
"My favorite booth at Maison&Object was the Aviva Stanoff Design booth. I think this is a great new source for pillows and throws. They have beautiful unique pillow that we could use for our interior design projects. Love their elegant, handmade and unique textiles." (Maca Carrera, Jr. Interior Designer)
"I found very interesting the brand new furniture with different design and materials that were exhibited at the show. My favorite was Anima Domus booth. What I like the most about them is the natural materials like wood used, the neutral colors, new design forms and the way they used color but keeping the space peaceful. " (Daniela Correia,  Project Manager Assistant)
We invite the Miami interior design community to keep attending these international interior design events. MAISON&OBJECT Americas is an exclusive platform for North, South and Central America and we are very lucky to have it close at hand.
You want to read about the first edition of MAISON&OBJECT Americas? Take a look at our blog posts below:
DKOR Principal, Ivonne Ronderos, Reviews Maison & Objet – International Interior Designers
Maison & Objet Miami 2015 Round-Up by Anouk from Miami's Top Interior Design firm